Dropover 4.11.0: Custom Actions, Embracing the Notch, and Tons of Improvements
Introducing a significant update to Dropover! This update brings a few new powerful features and improvements aimed at enhancing your workflow.
Introducing Custom Actions
Custom Actions allow you to perform file actions with predefined parameters, eliminating repetitive prompts and streamlining your workflow.
With regular file action, you would be prompted for input, such as dimensions for "Image Resize" action or a destination folder for "Copy to" action. However, Custom Actions allow you to set these parameters upfront, enabling you to execute actions seamlessly without any prompts. This feature is especially useful when performing frequent tasks with the same parameters.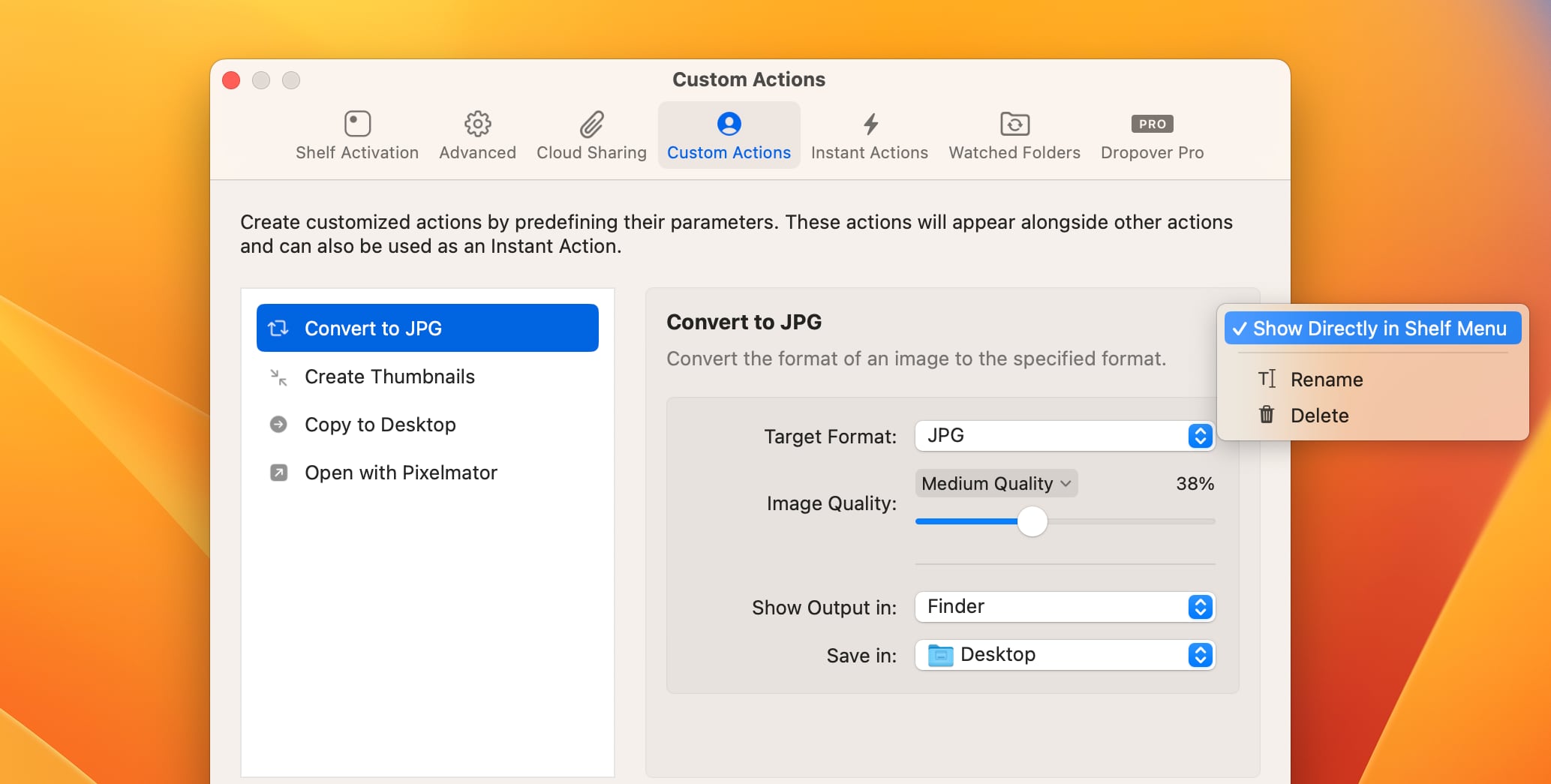 Custom Actions provide flexibility for various operations, including copying or moving files to specific folders, resizing images to desired dimensions, opening specific applications with the shelf content, and more.
Furthermore, Custom Actions can be personalized with custom names, making it easier to identify. You also have the option to display your Custom Action directly in the shelf menu, avoiding the need to navigate through submenus.
Custom Actions appear by default inside the "File Actions" submenu of the shelf action menu. Additionally, Custom Actions can be used as Instant Action. To get started, head to the new dedicated Custom Actions tab in Dropover's preferences.
Drag to Notch
MacBook users with a notch can now enjoy the convenience of dragging and dropping files onto it. Just like with a normal shelf, you can drop any kind of content onto it and a new shelf will appear with the dragged content.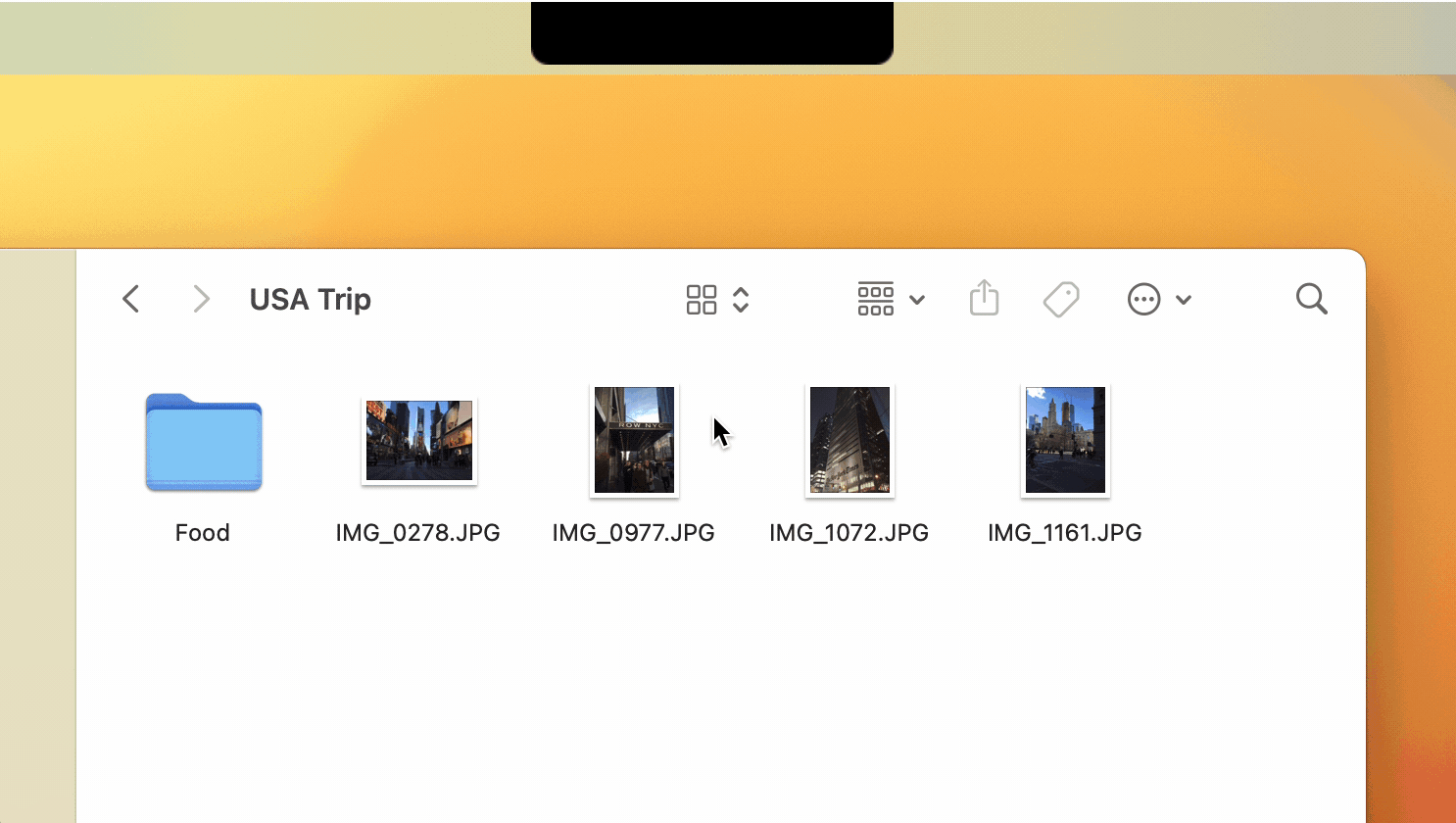 To enable this feature, open Dropover's preferences and ensure that "Drop onto notch" option is selected. This option will only appear when one of your screens contains a notch. By default, the notch will show a highlight glow when you are dragging content, providing visual feedback. However, this can be disabled in the preferences.
Adjust Shelf Settings Directly from the Shelf Menu
Managing the settings of a specific shelf has become significantly easier in this latest update. Now, you can effortlessly customize the indicator color or behavior directly from the shelf action menu, saving you valuable time and effort.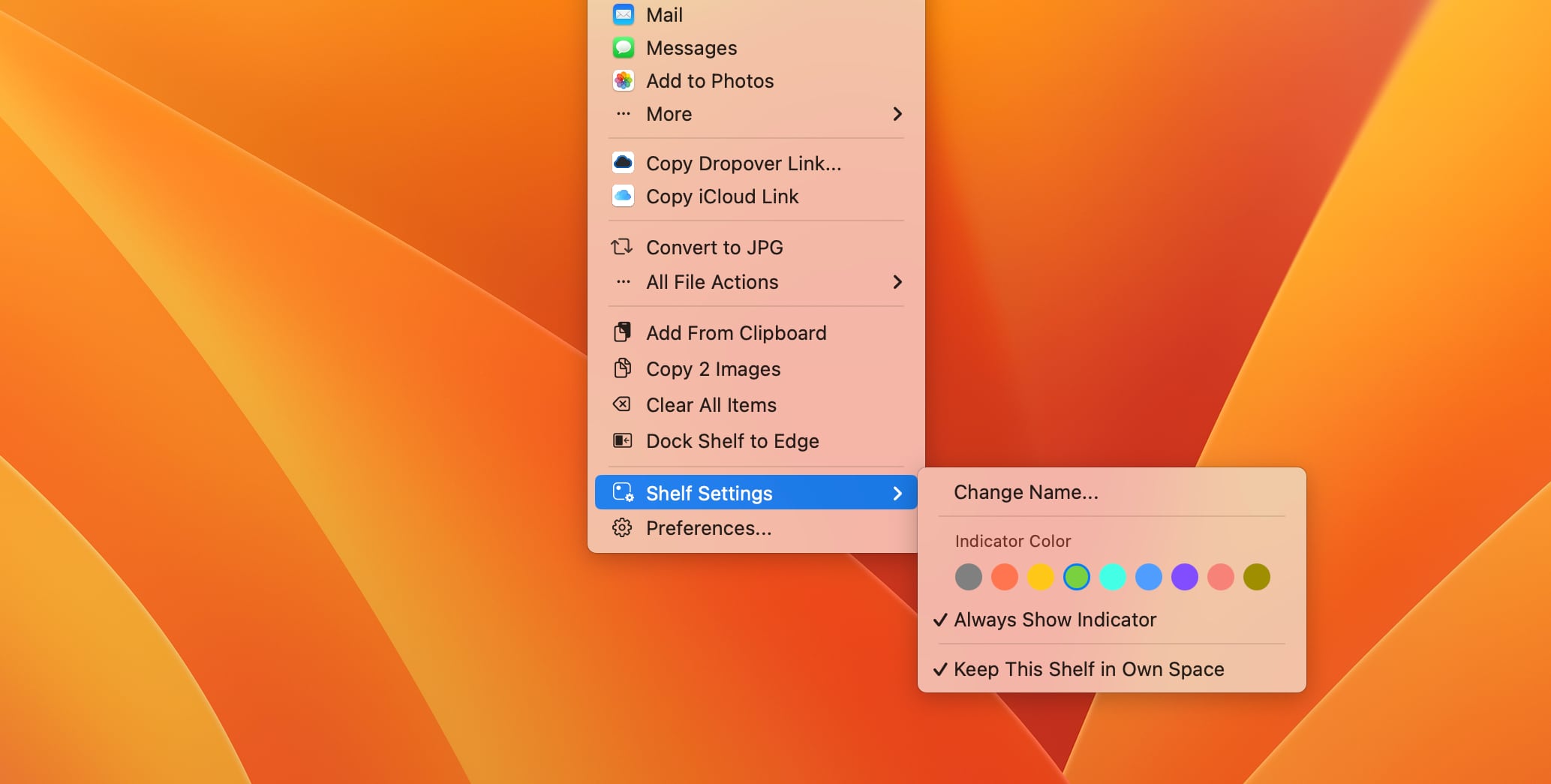 Furthermore, a new option has been introduced that allows you to specify whether a shelf should remain in its own space. This added flexibility gives you more control over the arrangement and organization of your shelves, ensuring an optimal workspace.
Other improvements in this update:
Added the "Copy Text Content" file action, which allows you to copy the content of text files in the shelf. This action will only appear if the shelf contains one or more text files.
The shelf action menu is now automatically reloaded when relevant preferences have changed, such as when a new Custom Action is added or when a Cloud Service has been enabled or disabled.
Custom Scripts (formerly known as Custom Actions) can now be used as Instant Actions for quicker access.
Added an option in the preferences (Advanced tab) to keep shelves in their own space. When checked, new shelves will stay in their designated space.
Improved the compression process for images in the "Convert Image" file action.
Added support for compression of JPG images in the "Convert Format" file action. This feature was previously not available.
Cancelling the dragging of content from the shelf to a destination is now possible using the ESC key.
Fixes in this update:
Resolved an issue that caused unnecessary continuous CPU usage in the background after closing Dropover's preference window.
Fixed an issue where certain keyboard events (e.g., enter) were ignored in the shelf action menu.
Corrected an issue where selecting "High Quality" image in the "Compress" file action resulted in higher image compression instead of the intended outcome.
Resolved a crash issue that occurred after opening shelf content with a specific application.
The preference window now opens on the correct screen in multi-screen mode. It was previously always opening on the main screen.
Fixed a rare crash issue that could occur when opening the Custom Scripts (formerly known as Custom Actions) settings modal.
Fixed an issue where empty shelves would occasionally remain open after canceling a drag operation.
Resolved an issue where clicking could accidentally snap the shelf into position when "Snap Shelves into position" was enabled.
Fixed a display issue in the Watched Folders settings where some buttons would get clipped off.
Various stability and performance improvements.
Numerous copy improvements for enhanced clarity and accuracy.
What's Next?
During WWDC Apple has previewed macOS Sonoma and it includes some interesting things for Dropover as well. First priority is to ensure current Dropover version works as expected on Sonoma and then focus on Sonoma exclusive features & enhancements.
If you'd like to help, or want to just play with the newest versions of Dropover, make sure you join Dropover's TestFlight program.